What do a secluded island in Tahiti, a wildlife sanctuary in Kenya, and a charming rural estate in the Vermont mountains share? These stunning locations are home to some of the world's finest all-inclusive luxury resorts, offering unparalleled experiences for discerning travelers.
These all-inclusive luxury resorts provide not only accommodations, meals, drinks, and activities, but many also prioritize sustainability and conservation, making them ideal eco-destination getaways. Guests can indulge in lavish villas nestled in the world's most stunning islands, ranging from overwater bungalows on Fiji's finest isles to eco-chic nature retreats in Indonesia. While some of these resorts rank among the priciest in the world, others offer exceptional value for money, with all-inclusive packages that encompass even the most exciting activities.
Discover the world's top luxury all-inclusive resorts, from the sun-soaked Caribbean shores to the wilds of Kenya. Indulge in personalized service, lavish amenities, and all-inclusive rates that allow you to leave your worries – and your wallet – behind as you unwind in these exquisite destinations.
Discover your ideal upscale sanctuary with our curated selection of the world's most exquisite luxury all-inclusive resorts.
1. Nihi Sumba Island, Indonesia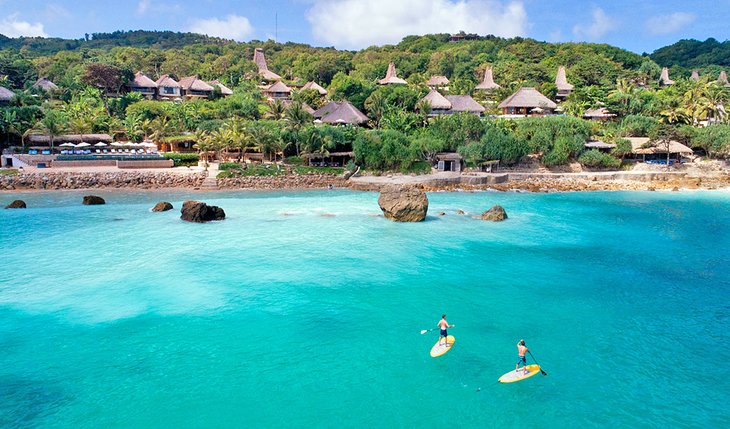 Nestled in an eco-friendly paradise, Nihi Sumba has transformed from a humble surfer's retreat to one of the world's most exquisite beach resorts. This stunning gem is situated along a pristine, palm-fringed coastline on the remote Indonesian island of Sumba, just an hour's flight from Bali. Its breathtaking beauty and unspoiled wilderness make it an unparalleled destination for luxury-seeking travelers.
Nestled within a nature reserve and embodying the philosophy of "The Edge of Wildness," this luxurious resort offers an idyllic escape for the discerning traveler. Stretching over 2.5 kilometers, pristine white sand beaches lay hidden beneath the encompassing cliffs, providing excellent opportunities for surfing, fishing, and snorkeling. Here, you won't find televisions to distract you; instead, you'll be embraced by refreshing ocean breezes, captivating island adventures, and the warm hospitality of the friendly staff, all while taking in the breathtaking ocean views.
Nestled in a tropical paradise, the 33 air-conditioned villas at this luxury all-inclusive resort showcase high, straw-thatched ceilings, swaying palm trees, and breathtaking ocean views. With configurations spanning from one to five bedrooms, the villas boast spacious living rooms, private pools, outdoor showers, and top-notch butler service. For an unforgettable experience, families can even reserve a charming three-story treehouse.
For those adventurous enough to venture beyond the comfort of their opulent villa and the pristine beach, with its superb surfing, diving, and fishing opportunities, the resort offers a plethora of activities to indulge in. Saddle up for an exhilarating horseback ride along the shore from the on-site riding center, or embark on a cultural journey to nearby villages. Discover hidden waterfalls, tackle challenging mountain biking trails, or hop aboard a Land Rover safari for a thrilling ride. Alternatively, satisfy your sweet tooth with a visit to a local chocolate factory, or simply unwind at the upscale beach club and pool area.
Embark on a rejuvenating day spa safari, indulging in an array of healthy treats and nourishing meals. Elevate your experience with complimentary daily yoga sessions, held in a serene pavilion boasting breathtaking ocean views.
At these all-inclusive luxury resorts, rates encompass all meals, snacks, select beverages, and activities. These family-friendly getaways also contribute to the greater good, as a portion of your stay's proceeds goes towards supporting the Sumba Foundation's community initiatives. These projects provide essentials like fresh water, medical care, and communal farms to local villages. So, you can indulge in opulence and make a meaningful impact simultaneously, making for a truly unforgettable vacation experience.
2. The Brando, Tahiti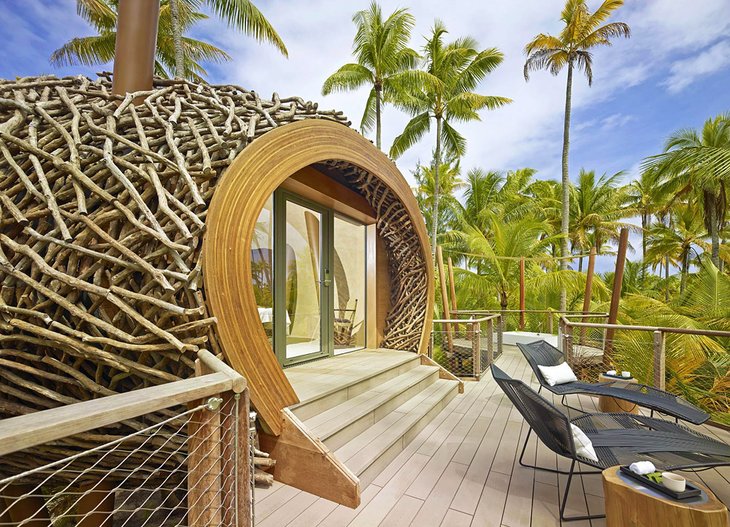 Imagine basking in the sun on a pristine Tahitian island, surrounded by lush tropical landscapes and crystal-clear waters. At The Brando, you can live out this fantasy while supporting sustainable tourism. Nestled on a private island with a three-mile lagoon, this eco-friendly, carbon-neutral resort offers the perfect blend of luxury and environmental sensitivity for the conscious traveler. So, pack your bags and prepare for an unforgettable experience at one of the top luxury all-inclusive resorts in the world.
Nestled in paradise, the resort was established by silver screen icon Marlon Brando, with a vision to preserve the island's enchanting beauty and rich biodiversity. A shining example of sustainability, the entire island is powered by cutting-edge renewable energy technologies, including solar power and ocean water conditioning systems. Welcome to eco-luxury at its finest.
Nature enthusiasts will undoubtedly find paradise at these luxury all-inclusive resorts. The vibrant green coral reefs glisten beneath the lagoon's surface, while birds congregate along the shoreline. Majestic whales can be spotted during their annual migrations, and sea turtles lay their eggs on the moist, sandy beaches. The beauty of nature truly comes alive at these top-notch retreats.
Nestled among groves of bamboo and palm trees, the thatched villas exude an air of sensuality, effortlessly blending modern furniture and fixtures with locally sourced, recycled building materials like straw, stone, and wood. Step away from the beach and into a haven of luxurious, eco-friendly design at one of the world's top all-inclusive resorts.
Each villa boasts a private pool, an outdoor soaking tub, and a media room equipped with TVs and Wi-Fi. The two-bedroom villas offer the added convenience of kitchens and dining areas, while the expansive three-bedroom villa is ideal for hosting large family gatherings. To top it off, all villas come with bicycles, allowing guests to effortlessly explore the enchanting island on two wheels.
Blending French, Polynesian, and Eastern and Western influences, the resort's exquisite cuisine features fresh ingredients from the island's organic gardens. Locally sourced seafood takes center stage, while guests rave about the fluffy, crumbly croissants served for breakfast. Vegan options are also readily available, ensuring a truly indulgent dining experience for all.
Naturally, aquatic adventures take center stage at this luxurious resort, where guests are provided with all the necessary equipment to paddleboard, snorkel, dive, and kayak through the pristine waters. For those interested in learning more about the island's ecology and conservation efforts, a visit to the on-site eco-station offers the opportunity to engage with researchers and expand one's environmental knowledge.
At this luxurious resort, guests can also enjoy engaging lectures on Polynesian culture and history. For families, the Lagoon School keeps children entertained, while more active visitors can partake in a variety of activities such as tennis, deep sea fishing, and dance and fitness classes. This all-inclusive destination truly offers something for everyone.
Opting for the all-inclusive package not only covers all island activities, but also grants you access to a world of indulgence with holistic treatments at the rejuvenating Soul Spa. With everything taken care of under this full board plan, you can bask in the lap of luxury at one of the top three all-inclusive resorts in the world.
3. South Ari Atoll LUX, Maldives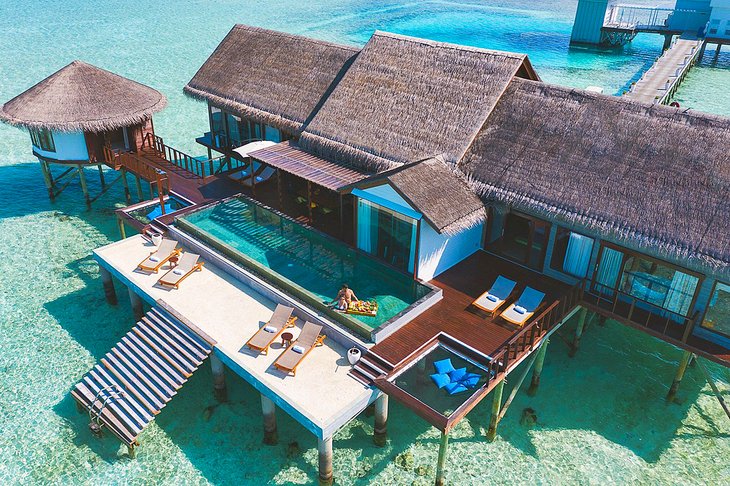 Planning a dream honeymoon on a tropical island? Search no more; Lux South Ari Atoll in the Maldives is the perfect destination. Envision an idyllic escape on a pristine island adorned with silky-white sandy beaches and crystal-clear turquoise waters. Picture thatched bungalows perched above the shimmering sea, complete with private pools. At LUX, you'll discover all this and more, creating an unforgettable getaway.
Nestled perfectly along the shoreline, each of the 193 villas at this luxury all-inclusive resort boasts chic beach house decor, complete with sun-bleached woods and crisp white linens. The five-star accommodations effortlessly combine modern luxuries with coastal charm, ensuring guests experience the epitome of extravagance.
Families will find a warm welcome at this luxurious resort. A dedicated kids club keeps the young ones entertained all day, while the eight on-site restaurants cater to even the most discerning of taste buds.
When it comes to activities, the possibilities are truly limitless at the opulent South Ari Atoll. Located within a protected marine area, the resort boasts over 50 dive sites teeming with vibrant marine life, offering unforgettable diving experiences with whale sharks and turtles. But that's not all – guests can indulge in beachside pop-up movie nights, savor floating breakfasts in their private pools, pamper themselves with rejuvenating spa treatments, or engage in a lively game of tennis. Whatever your heart desires, this luxurious all-inclusive resort has you covered and then some.
Nestled in tranquility, LUX South Ari Atoll offers an idyllic escape for couples in search of romance or anyone yearning to unwind in a private island paradise. This luxurious resort exudes elegance, ensuring a memorable retreat for discerning travelers.