Switzerland is a captivating destination, boasting alpine landscapes and quaint villages reminiscent of a storybook. The stunning Swiss Alps, with their soaring peaks, glisten with sparkling blue lakes, emerald valleys, and majestic glaciers. Nestled among these natural wonders are picturesque lakeside hamlets, adding to the fairy-tale charm of this enchanting nation. Visitors can expect a wealth of world-class attractions and an extensive array of activities, including hiking, mountain biking, climbing, paragliding, and skiing, making Switzerland the perfect destination for both adventure and relaxation.
Visitors flock to Switzerland for its breathtaking landscapes, only to be further enchanted by the abundance of cultural attractions on offer. Steeped in history, cosmopolitan cities such as Zurich, Geneva, and Lausanne boast exceptional museums, galleries, and historic buildings, as well as renowned music festivals. The charming capital, Bern, features a spectacular medieval old town nestled along the curve of a river. Surrounded by Germany, Italy, Austria, and France, Switzerland's unique blend of multicultural sophistication is a testament to the influence of its neighboring countries' languages and customs.
Switzerland often feels like a collection of different countries seamlessly blended into one, boasting Italian-inspired Ticino architecture, Swiss-German and Latin-influenced Romansh dialects, all wrapped up in the nation's famously efficient and punctual package. Discover the top-rated tourism attractions in this diverse and captivating destination.
Embark on an unforgettable journey and discover Switzerland's most captivating destinations with our carefully curated list of top-rated tourist attractions. Experience the magic of the Swiss Alps and beyond, all while creating memories to last a lifetime.
1. The Matterhorn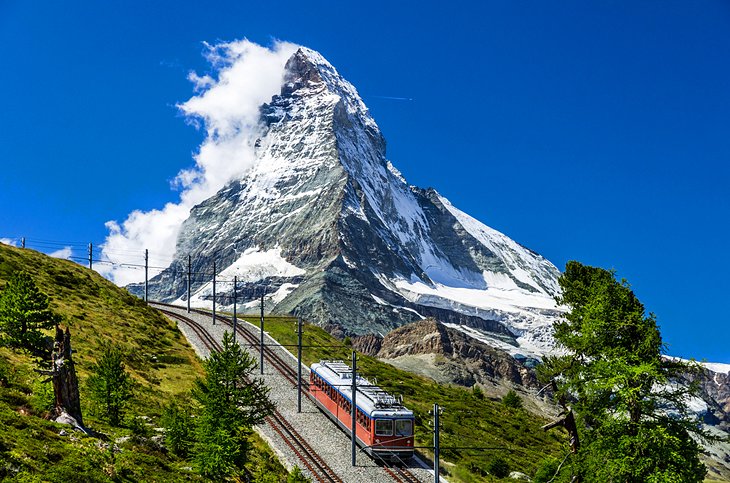 The breathtaking Matterhorn, Switzerland's iconic peak, stands tall as one of the highest mountains in the majestic Alps. Straddling the border with Italy, this legendary summit soars to an impressive 4,478 meters, boasting four steep walls facing the cardinal directions. While the inaugural ascent in 1865 met a tragic end with the death of four climbers during their descent, the Matterhorn now attracts thousands of skilled mountaineers every summer, eager to conquer its challenging heights.
Nestled at the base of the awe-inspiring peak lies the enchanting village of Zermatt, a top international destination boasting horse-drawn carriage rides, cozy chalets, and world-class dining and accommodations. In an effort to preserve its pristine air quality and tranquil ambiance, motor vehicles are strictly prohibited within the village.
During the winter season, avid skiers can carve their way down over 300 kilometers of pristine slopes. As the snow melts away, Switzerland's summer months offer an abundance of activities such as swimming, tennis, and exploring the picturesque mountains through hiking, biking, and climbing adventures. For those who can't get enough of the slopes, summer glacier skiing is also a thrilling option.
2. Jungfraujoch: Top Europe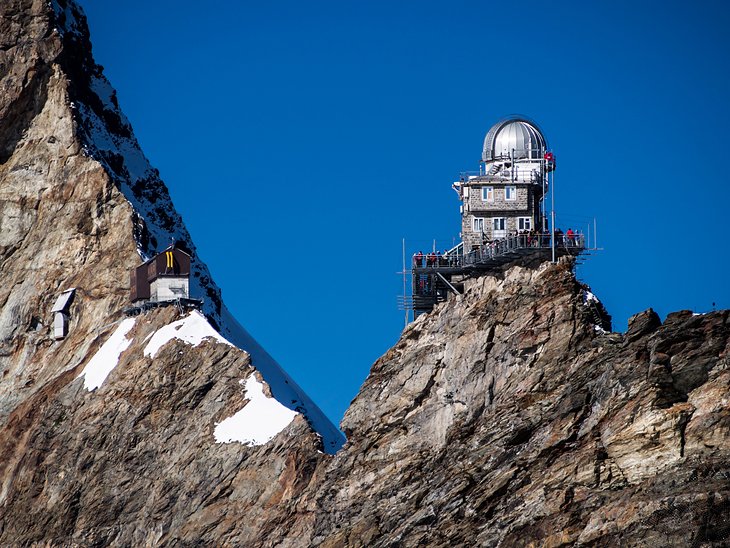 A must-do activity in the picturesque Bernese Oberland is embarking on a train journey to Jungfraujoch, known as the "Top of Europe." At a staggering 3,454 meters, you'll find a viewing terrace and science observatory that will leave you breathless. As the starting point of the longest glacier in Europe, the Aletsch Fawr Glacier, Jungfraujoch holds the prestigious title of a UNESCO World Heritage Site. Adventure-seekers can trek the renowned Eiger path, a thrilling trail that clings to the rocks at the foot of the north face, stretching from the Eiger to the Alpiglen glacier station.
Some other must-try walks in Switzerland are the Panorama Road, which takes you to the sun-kissed southern slopes; the breathtaking Gletscherschlucht, or glacier gorge; and the picturesque Öpfelchüechliwäg, a high-altitude trail that meanders from Holenstein to Brandegg through vibrant flower fields, lush alpine pastures, and serene forests. For those who prefer a more leisurely experience, hop on a gondola or cable car to enjoy stunning viewpoints overlooking the majestic Lauterbrunnen valley.
Nestled in the heart of the Jungfrau region, the charming village of Grindelwald is a picturesque base for exploring the surrounding Swiss Alps. As one of Switzerland's oldest and most renowned destinations, this alpine valley is cradled by the majestic snow-capped mountains of the Wetterhorn and the Eiger. The Eiger's formidable north face, in particular, is known as one of the most challenging and awe-inspiring climbs on Earth. Sandwiched between these towering peaks, the two glistening Grindelwald glaciers add to the region's breathtaking beauty. For an unparalleled panoramic view, make your way up to the summit of Faulhorn, standing tall at 2,681 meters. From this vantage point, you'll be rewarded with a stunning vista of the expansive mountain landscape that surrounds you.
3. Interlaken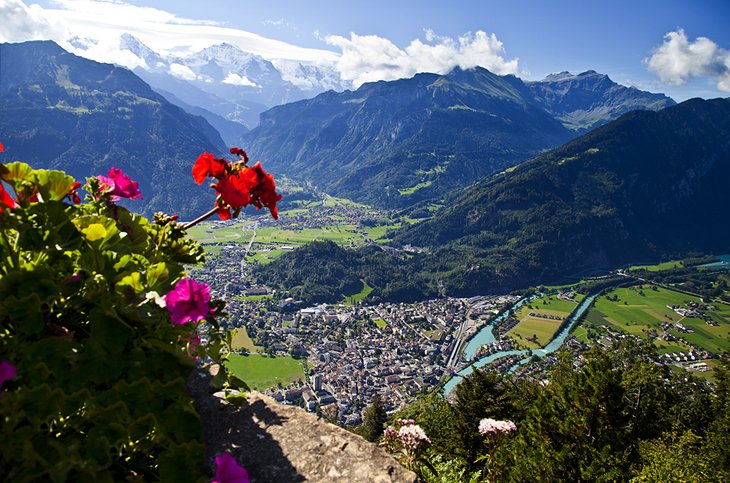 Tucked between the picturesque Lake Thun to the west and the charming Lake Brienz to the east, Interlaken stands as one of Switzerland's premier summer hotspots. At the city's heart lies Höhematte, a 35-acre urban oasis teeming with vibrant flower gardens, inviting hotels, and cozy cafes. The central artery of Höweweg meanders through this haven, offering breathtaking mountain vistas at every turn. Dominated by the towering peaks of Eiger, Mönch, and Jungfrau, the city serves as an idyllic base for exhilarating alpine escapades. Adventure-seekers can revel in a plethora of thrilling activities, including hiking, climbing, abseiling, and kayaking.
With over 45 cable cars, funiculars, and ski lifts available, visitors can effortlessly explore the stunning Swiss countryside and enjoy breathtaking panoramic views. During winter, skiing and snowboarding enthusiasts have a plethora of nearby destinations to choose from, while cross-country skiers can take advantage of the extensive network of slopes. In the summer months, thrill-seekers can try paragliding from Beatenberg-Niederhorn. For a more leisurely way to appreciate the picturesque landscape at lower altitudes, hop aboard a steamship for a relaxing cruise around Switzerland's majestic lakes.
4. Lucerne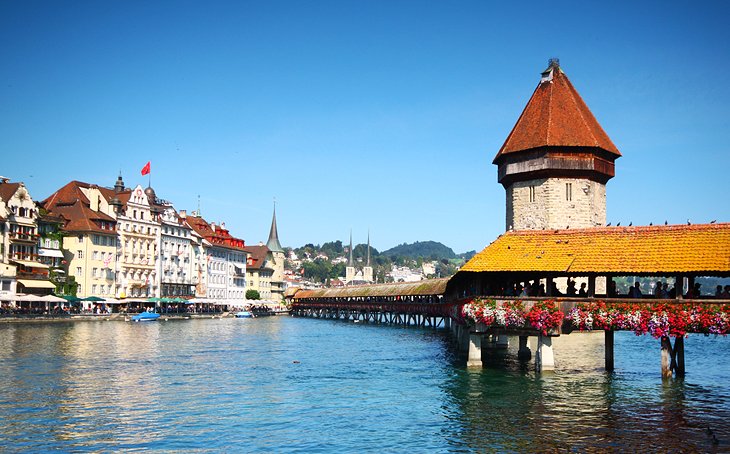 Picture a pristine blue lake nestled among majestic mountains, a well-preserved medieval town free of cars, quaint covered bridges, charming waterfront promenades, historic buildings adorned with frescoes, and lively squares boasting vibrant fountains. It's no surprise that Lucerne (or Luzern, as it's known in German) is a top destination for tourists. Famed for its musical events, this extraordinary Swiss city lures celebrated soloists, conductors, and orchestras to its annual International Music Festival. The Culture and Convention Center houses one of the world's most illustrious concert halls, adding to Lucerne's already impressive allure.
Among the top attractions in Switzerland, Lucerne's Chapel Bridge stands out as a remarkable 14th-century monument steeped in history. Nestled in a quaint park, the poignant Lion Memorial pays tribute to the valiant Swiss Guards who perished during the French Revolution's attack on the Tuileries. For those fascinated by history and innovation, the Swiss Transport Museum offers an immersive experience, showcasing a diverse range of transportation methods, from rail locomotives to air and space travel, all housed under one roof alongside a captivating planetarium.
Discover breathtaking views of Lucerne, the majestic Alps, and the shimmering Lake Lucerne by embarking on a journey to Dietschiberg's north side. Board the funicular and ascend to this picturesque vantage point. Alternatively, opt for a thrilling cable car ride up to the awe-inspiring Mt. Pilatus or venture to Rigi's renowned lookout point for an unforgettable experience in the heart of Switzerland's top-rated tourist attractions.
5. Lake Geneva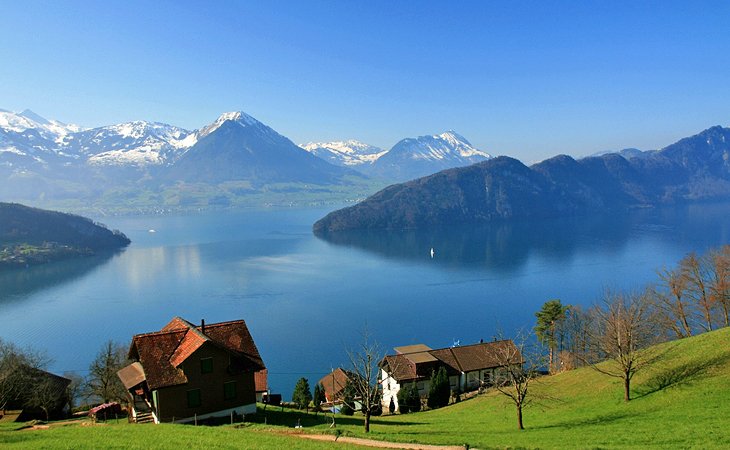 Nestled between Switzerland and France, Lake Geneva, Europe's largest alpine lake, graces the shores of some of Switzerland's most renowned cities. Geneva, known as Genève in French and Genf in German, lies at the heart of this stunning region, surrounded by majestic snow-capped peaks and the picturesque flow of the Rhone River into the vast expanse of Lake Geneva.
Nestled in the heart of Switzerland, the French-inspired "capital of peace" serves as the European headquarters for the United Nations, offering visitors a delightful fusion of French joie de vivre and Swiss organization. Lake Geneva's picturesque shoreline is adorned with charming parks and gardens, perfect for leisurely strolls, while the enchanting old town invites you to meander through its historic architecture. The iconic Jet d'Eau – a captivating fountain that propels water 150 meters skywards – proudly stands as a renowned landmark within the lake. Cultural aficionados will appreciate the majestic Opera House and Grand Théâtre, which regularly host an array of international performances.
Nestled on the shores of Lake Geneva, just 62 kilometers from the city itself, Lausanne boasts breathtaking views of the expansive lake and the towering Alps in the distance. Wander through the charming medieval town, where quaint cafes and boutiques line the cobbled streets, leading to the awe-inspiring Gothic cathedral. Further along the lakeshore, at the foothills of the Alps, Montreux comes alive each summer as it hosts the renowned Montreux Jazz Festival in June and July.