Dubbed the gateway to Northeast India, Siliguri holds significant importance for tourists worldwide. This thriving city not only connects the seven sister states to mainland India, but also links to the four international borders of China, Bhutan, Nepal, and Bangladesh. Surprisingly, its cool climate and untamed beauty attract countless visitors from warmer regions.
Beyond its borders, the areas surrounding Siliguri have become popular tourist hotspots, making this city and its neighboring locales sought-after destinations year-round. If you're considering a trip to explore the captivating landscapes that West Bengal has to offer, it's essential to know the top resorts that will elevate your overall experience.
With that in mind, we've compiled a list of six stunning resorts near Siliguri, each providing exceptional views and accommodations to ensure you can access the area's prime tourist spots with ease.
The 6 Best Destinations near Siliguri
Discover six breathtaking resorts in close proximity to Siliguri, each providing unparalleled comfort and convenience for a truly unforgettable stay. Immerse yourself in stunning views and exceptional accommodations at these top-rated retreats!
1. Chamong Chiabari Retreat and Spa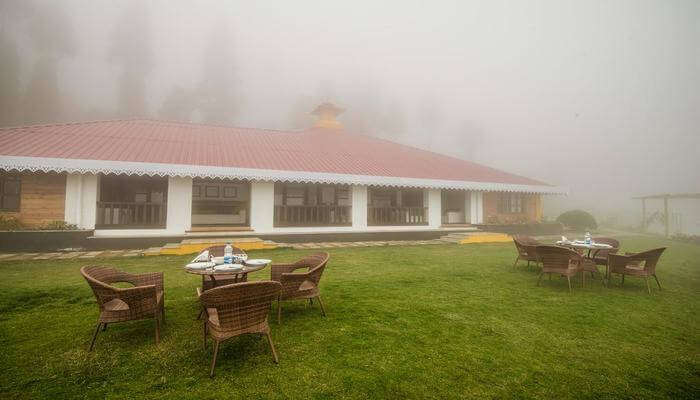 Tucked away in the heart of the mountains, this hidden gem of a resort provides some of the most breathtaking views imaginable. Perfect for those seeking a reprieve from the hustle and bustle of daily life, this serene escape offers an array of amenities to ensure a relaxing and rejuvenating stay. Indulge in luxurious spa treatments, enjoy picnics in picturesque settings, savor mouthwatering barbeques, or unwind with a soothing cup of tea. Boasting spacious and comfortable accommodations, this resort allows guests to fully immerse themselves in the beauty of nature, experiencing its wonders in all their glorious splendor.
2. Spider Jungle Destination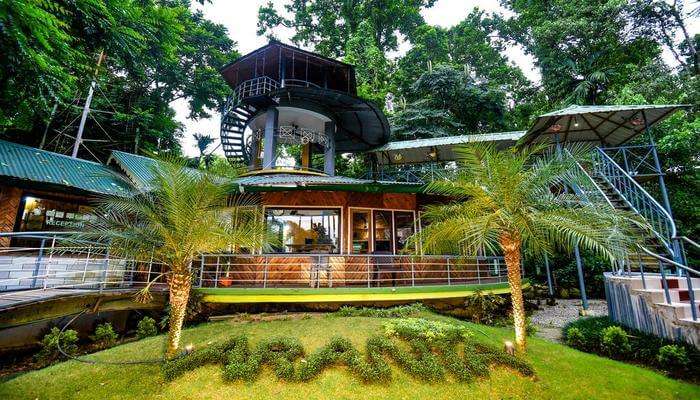 Nestled near Siliguri, this enchanting resort has been captivating guests for over a decade with its idyllic location and exceptional accommodations. Situated on the edge of a lush forest, this haven of tranquility invites you to immerse yourself in the serenity of nature. The resort features four distinct types of cottages, each thoughtfully designed to evoke the feeling of being in the heart of the jungle. Yet, despite the immersive surroundings, the resort ensures that guests are treated to all the modern amenities necessary for a comfortable and leisurely stay. Truly, this hidden gem offers the perfect escape for those seeking to revel in nature's beauty without having to rush back to the hustle and bustle of daily life.
3. Green Lagoon Resort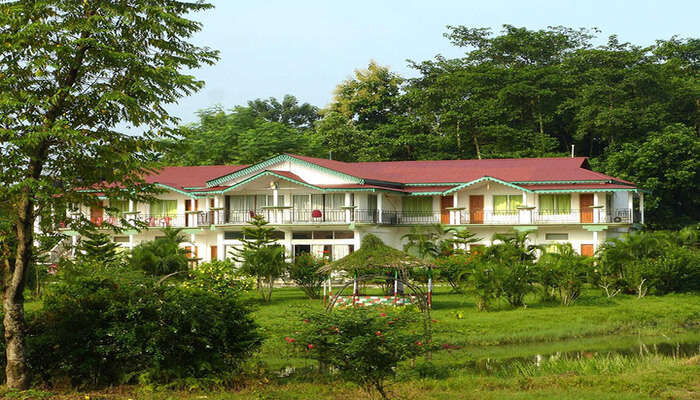 Nestled within the Gorumara National Park Wildlife Sanctuary, this expansive resort offers an unparalleled vacation experience for nature and animal enthusiasts. Its exquisite rooms are designed to immerse guests in the wilderness, providing a sense of being in the heart of the wild even while enjoying the comforts of the resort. Whether you choose to explore the sanctuary or simply unwind within the resort's luxurious confines, this stunning retreat promises an unforgettable escape amidst nature's finest offerings.
4. Singtom Tea Estate & Tea Resort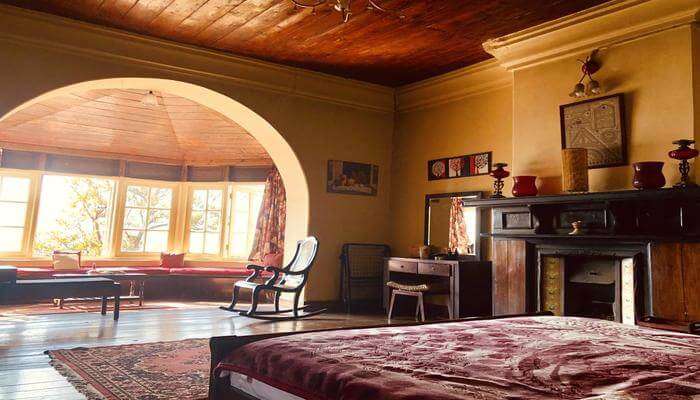 Nestled in a historic tea plantation dating back over a century, this enchanting resort boasts the distinction of being the world's oldest tea destination. Set amidst 1600 acres of lush, verdant tea fields, guests are treated to breathtaking panoramas of more than 50 majestic Himalayan peaks. A stay here is truly a feast for the eyes and a delight to the senses.
In addition to the awe-inspiring surroundings, the resort offers a luxurious Bubble Massage hot tub, guaranteeing relaxation so profound that you may never want to leave. The accommodation is just as impressive, with generously-sized, contemporary rooms complete with all the amenities one could desire.
Of course, no visit would be complete without sampling the freshest, most exquisite Darjeeling tea, which is available for guests to enjoy. This idyllic haven is a paradise for nature enthusiasts and vacationers alike, promising an unforgettable experience that perfectly melds natural beauty and indulgent comfort.
5. Heritage Central Resort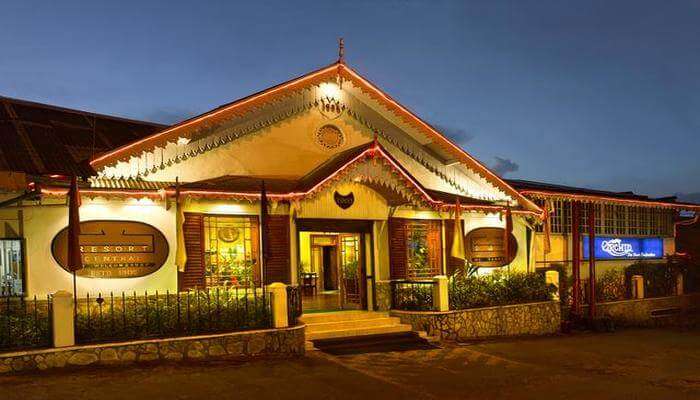 Constructed during the era of the British Empire, this historic hotel near Siliguri is one of the oldest in the area, proudly showcasing its British heritage through its central building's architecture. Boasting stunning luxury suites equipped with all the modern amenities needed for a comfortable stay, the resort effortlessly marries the past with the present. Step into its charming English café, and you'll feel as though you've been transported back and forth between Indian culture and Britain itself. As one of the finest resorts near Siliguri, it's the perfect destination for those seeking comfort and luxury during their vacation.
6. Arcadia Heritage Resort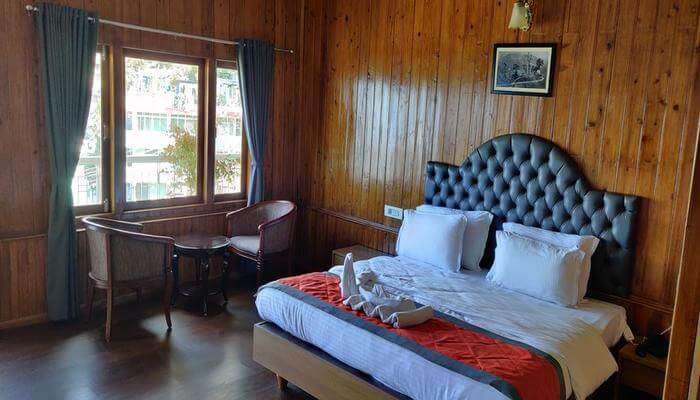 Dating back to the days of British rule in India, this historic property boasts well-preserved architectural ruins and fascinating artefacts. Its comfortable rooms provide breathtaking views of the majestic Himalayas, making it the perfect spot to relax with a steaming cup of Darjeeling tea and let the serene mountain vistas captivate your senses. For those who live by the motto of "carpe diem" and strive to experience every tourist attraction, this resort is ideally situated close to numerous popular destinations, such as Tiger Hill, Japan Peace Pagoda, Batasia Loop, and Rock Garden, just to mention a few. Discover the perfect blend of history, comfort, and adventure at this stunning resort near Siliguri.
West Bengal is a treasure trove of unforgettable experiences waiting to be discovered, and Siliguri serves as the perfect gateway to some of the most breathtaking destinations. With our top picks of stunning resorts nearby, you're guaranteed to embark on one of the most thrilling itineraries of your lifetime. So don't hesitate any longer – grab your laptop and start booking, because you won't want to miss out on the adventure of a lifetime during your trip to West Bengal.
Disclaimer: At TravelTriangle, we do not take credit for the images featured on our blog unless otherwise specified. All visual content is the property of their respective owners. We make an effort to reconnect with the original sources whenever possible. If you hold the rights to any of the images and do not wish for them to be displayed on TravelTriangle, please reach out to us, and we will promptly remove them. Our aim is to give proper attribution to the original creator, be it an author, artist, or photographer.
Commonly Asked Queries Regarding Vacation Spots Near Siliguri
Q. Are there any good places near Siliguri that you can visit?
Siliguri, nestled in the heart of West Bengal, boasts an array of stunning resorts offering breathtaking views and luxurious accommodations. As a highly sought-after destination, this vibrant city attracts thousands of tourists annually, making it one of India's top tourist hotspots.
Q. What is the best time to visit West Bengal?
West Bengal is a delightful destination to visit at any time of the year, thanks to its consistently pleasant climate. However, the winter season brings an added charm, as the foggy mountain vistas create an enchanting atmosphere that's perfect for a cozy retreat.
Q. Do all the resorts near Siliguri have a great view of the rooms?
Nestled among picturesque landscapes, Siliguri and its surrounding areas boast some of the most breathtaking mountain views you'll ever encounter. These stunning resorts provide not only top-notch accommodation but also awe-inspiring panoramas that will stay etched in your memory. So why wait? Discover the beauty of Siliguri today!
Q. Is it expensive to stay in resorts near Siliguri?
"Expect to pay a premium for the breathtaking views at these resorts, as rooms with the most stunning vistas often come at a higher price. While it's true that the rates may be above average, the unparalleled beauty of these heavenly locations makes it worth every penny."
Q. What is Siliguri known for?
Nestled among breathtaking mountain vistas, Siliguri has earned its reputation as a highly sought-after tourist destination. With its captivating scenery and top-notch accommodations, it's no wonder visitors flock to this picturesque haven for an unforgettable escape.